It is the middle of the summer, the temperatures are hovering around 100 degrees in many part of the U.S. You have been hitting the pool daily with the family to cool off and enjoy a few water sports. You've managed to whip up a few healthy summer recipes to satisfy everyone's taste. Now you are thinking, "Mama needs a pick me up." A nice, cool, summery drink is exactly what you had in mind. Thankfully, we've rounded up a few drinks you can try – some of them even "skinny" – to cool you off this summer.
Keep It "Skinny"
If you are seeking to keep your drink on the skinny side of things, then try these drinks out for size. Pun intended.
Strawberry Lemonade
Swanky Recipes whipped up a lemonade with the sweetness you crave minus all of the calories. By substituting sugar with Sweet 'n Low, this Strawberry Lemonade's calories are whittled away to near zero.
It is the perfect drink to quench your thirst on a steamy, summer day. Especially for those days you will spend outdoors most of the time.
Head over to to the website to give this recipe or another one a try this summer.
Try this Strawberry Lemonade recipe #donthesitaste the whole family will love by @swankyrecipes Click To Tweet
Jalapeno Strawberry Margarita
Most of you seek food your body will thank you for, right? Well, thankfully, they  – Food Your Body Will Thank You For – provided you with this guilt-free, after-work cocktail to satisfy your taste bud's pleasures. The Jalapeno Strawberry Margarita is made with real food ingredients your body can appreciate.
It is made with no refined sugar, white tequila, raw honey and other fine ingredients. You can make a pitcher of this guilt-free drink for any adult dinner party. Your guest will leave raving about the delicious margarita they just tried.
Paleo Margarita
There are many lifestyle diets out there to keep your body clean. The Paleo Diet is no exception to this endeavor. If you were wondering, "Am I allowed to drink on the Paleo Diet,"  then this Paleo Margarita definitely answers that question.
A Girl Worth Saving grabbed a bottle of tequila to whip up this skinny recipe. What do you think?
Raspberry Rose Liqueur
Tash, the Holistic Health Herbalist, has a website chalked full of holistic living and herbal remedies. So when she sent us over this recipe to include in the summer cocktail roundup, we were thrilled, needless to say. This Raspberry Rose Liqueur is infused with roses. Yes, Roses.
"Paired with fruity raspberry and zesty sumo orange, this rose inspired liqueur is sure to bring true love upon the first sip, so share it with your especial loved one on this special day." ~ Tash, the Holistic Health Herbalist
Mocktail Please
"A mocktail please," you ask the hostess with the 'mostess' at your latest dinner engagement. "Excuse me, what?" inquires the hostess. You respond, "A cocktail minus the alcohol." Yes. Just because you choose not to drink alcohol does not mean you do not want a fun drink. Don't worry. We've got you covered. Taste these mocktails. Tell us what you think.
Shirley Temple Cocktail
Swanky Recipes does not miss a beat with this oldie, but goodie of a drink. The Shirley Temple Cocktail is probably the first cocktail, uh um, mocktail, many of us had as a child. However, if you want to make it an adult drink, aka "Dirty Shirley" just add a splash a vodka, advises Swanky Recipes.
Make sure to visit their website to tell them what you think of this delicious recipe (recipe link above).
Strawberry Mango Aqua Fresca
Your kids will thank you for this refreshing drink made with Smart Water, strawberries, honey, lime juice and mango. The Strawberry Mango Aqua Fresca, presented by Dinner At the Zoo, is a perfect option for a day at the beach.
Below, there is a Summer Sangria recipe with a non-alcoholic version. You replace the white wine with sparkling water. Scroll down to check it out.
Daytime Drinks
Cocktails are not just for the evening time. After all, brunch is a very popular meal across the globe. The beauty of breakfast and lunch combined with a glass of something 'sparkly' is simply divine.
Peach PAMA Bellini
Often, we think of the mimosa when considering a brunch drink. However, we would like to indulge you with a tall glass of bellini. Yes, a delicious Peach PAMA Bellini from Swanky Recipes to pair with your yummy brunch – plated or buffet. Whichever way you brunch, this drink is sure to complement your meal well.
Tasty Cocktails
Forget the skinny, it's too late for brunch and let's face it, you want the alcohol. We won't leave you hanging any longer. Here are some tasty cocktails for you to try. We would love it for you to drop by the sites hosting the recipes to give them a shout out.  Seriously, where would we get these scrumptious recipes to meet all of your individual taste if not for them? Yea, right! Let's show them some gratitude.
Sangria
If you looking for the perfect party drink, then look no further than the Sangria. And Here We Are makes her recipe less sweet with richer fruit flavors than most restaurants. And here's the thing, you can make a pitcher the day before an event and it will not lose it's flavor before the party starts.
Summer Sangria
How about a different flavor for your Sangria? Recipes to Nourish created a Summer Sangria with Watermelon Juice and Lemon Verbena.
As mentioned above, this recipe also offers a mocktail version. Simply use sparkling water in place of the white wine and voila! You now have a non-alcoholic drink.
Tropical Moscato Sangria
Living Sweet Moments created a third Sangria version, the Tropical Moscato Sangria.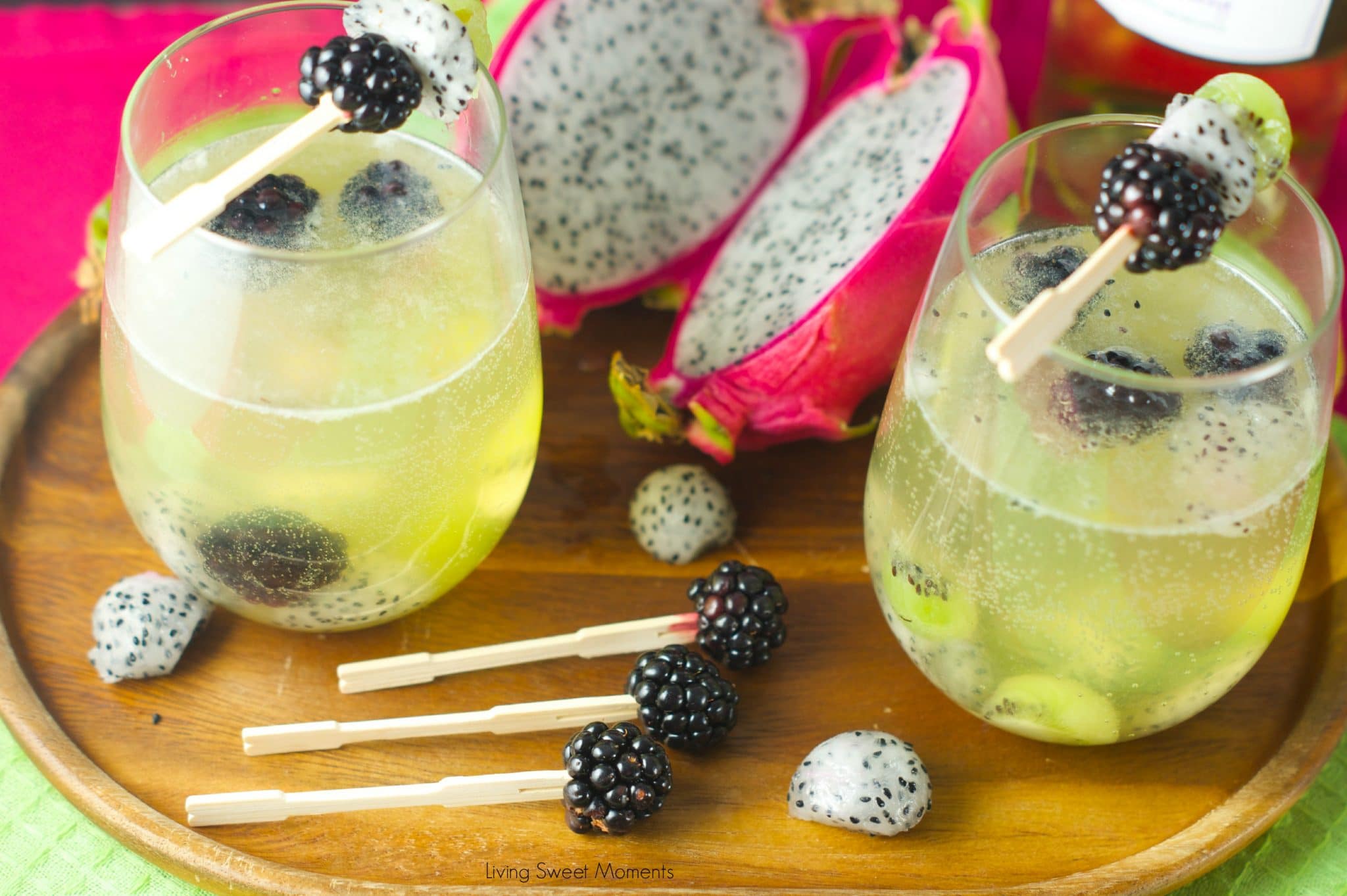 With blackberries, dragonfruit (yum) and kiwi, this Sangria is bursting with exotic flavors to make your tastebuds flutter with joy.
Peach & Honey Sangria Slushie
Did we mention the Sangria was a drink made in variety? You could throw a dinner party with only the Sangria and your guest would still have a multitude of flavors from which to choose. Snappy Gourmet's Peach & Honey Sangria Slushie is the perfect solution for those uber hot days. Those days you need something a little creamy to go along with your thirst quencher.
With peach, orange, lime and honey, this Sangria blended into a slushie is sure to cool you down during an outdoor dinner party.
 Orange Raspberry Sparkling Wine Cocktail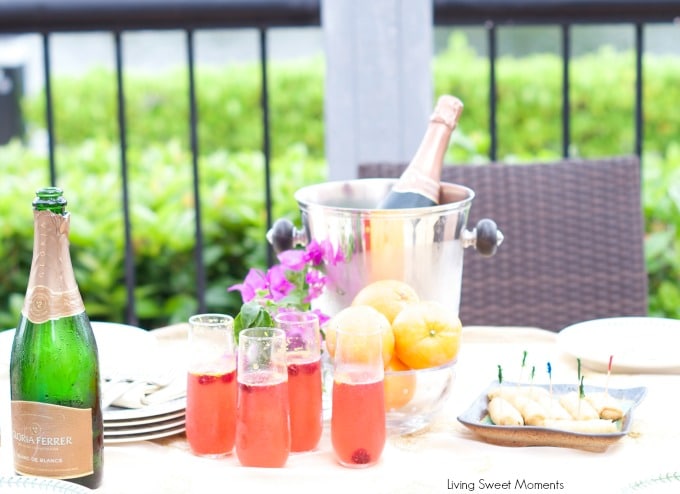 This sparkling wine drink is cool and refreshing for the summer. Living Sweet Moments presents the Orange Raspberry Sparkling Wine Cocktail (photo above). If you try this recipe, Tiffany has this request, "Please upload a pic on Instagram and tag me @Livingsweetmoments or use the hashtag #LivingSweet. I promise to repost it."
Pomegranate Limeade Sparkler
If you have yet to visit the Snappy Gourmet, then you are missing out on recipes for every season. Lisa has done it once again with another delicious, summer cocktail, the Pomegranate Limeade Sparkler (photo above). Her recipes have yet to disappoint. If you have a BBQ coming up, make sure to give this sparkler a try.
Rhubarb Mojito
If you are searching for cool summer drinks, then look no further than this beautifully colored Rhubarb Mojito by Living Sweet Moments.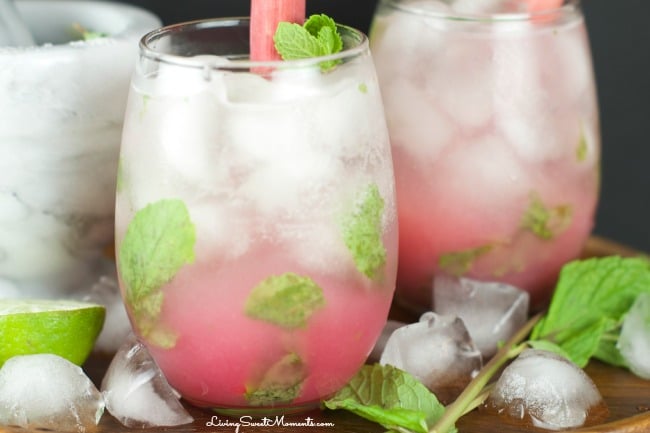 It can be made with white rum, vodka or even virgin. The choice is yours.
Remember to drink responsibly. 
Which drink would suit you? Skinny, mocktail, daytime drink or tasty cocktail?
Disclosure of Material Connection: I have not received any compensation for writing this post. I have no material connection to the brands, products, or services that I have mentioned. I am disclosing this in accordance with the Federal Trade Commission's 16 CFR, Part 255: "Guides Concerning the Use of Endorsements and Testimonials in Advertising."
Related posts: